Helping you choose
Find your perfect bed
Your bed should match your style, lifestyle and how you sleep, and given we spend a third of our lives in bed, it's important to love your bed! Let us guide you through everything from divans to day beds to help you choose your perfect bed.
Whats your Type?
Choosing the right bed comes down to what you need to get from it – style, storage, space saving options…or a combination.
Ottomans offer the most storage and come with a headboard. Day beds and guest beds are great for functionality. Bed frames add style and impact.
Ottomans provide hidden but impressive storage with the entire bed top lifting up with an easy-to-operate mechanism. All our ottomans come with a headboard, the majority of which can be upholstered in a house fabric of your choice.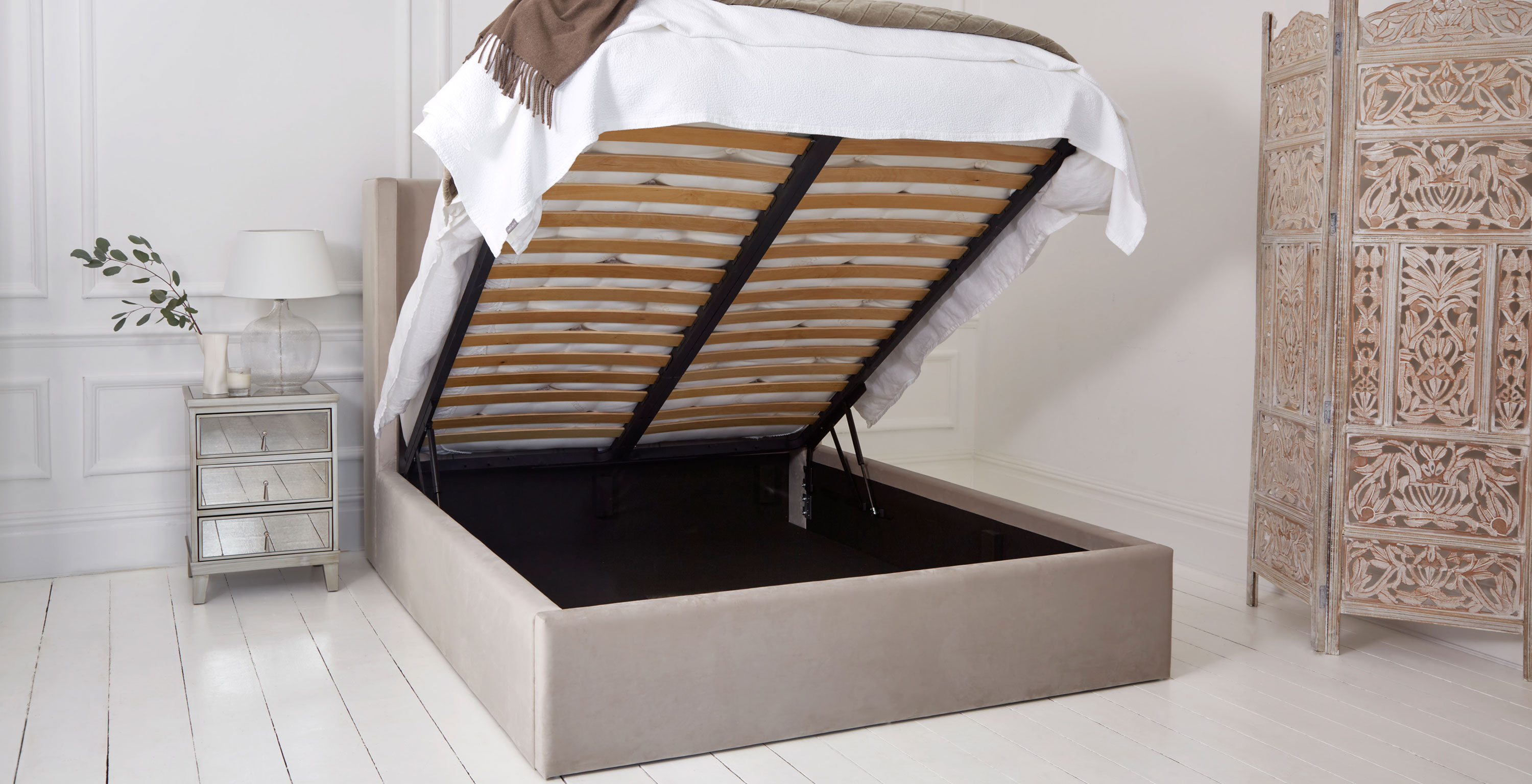 Day beds are a cross between a chaise longue, a sofa and a bed allowing your room to be multi-purpose. They come as a standard single size and are great for a spare room or summer house and can be teamed with a complimentary guest bed to make a super king. The guest bed slots underneath the day bed allowing you maximum functionality and space for your room.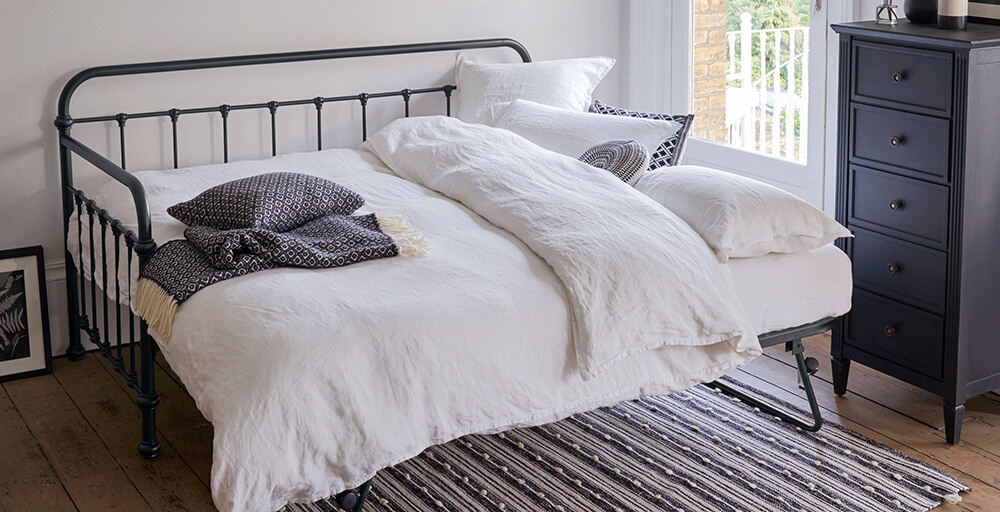 Bed frames are the framework of a bed onto which you place the mattress. Bed frames don't have any in-built, hidden storage. Our range of bed frames include metal and iron beds, wooden beds, upholstered beds, made for you beds and kids beds.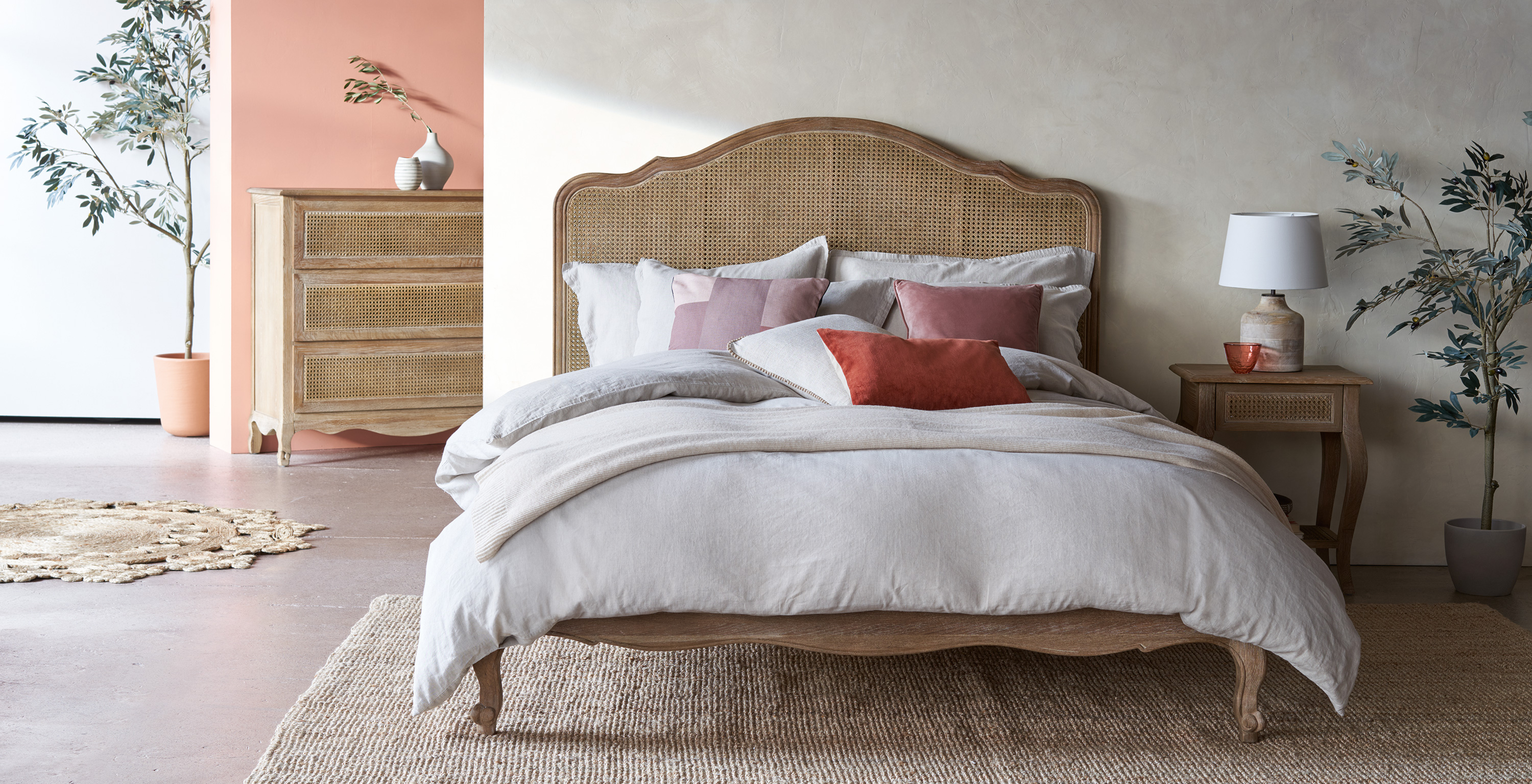 What's Your Style?
Style is personal and the type of bed to go for should reflect you and your chosen bedroom design. We're confident our large range of bed styles will work to satisfy your specific design dreams. The first thing to decide is what type of material you want your bed frame to be – wooden, metal or upholstered
Wooden Bed Frames
Wooden bed frames have an effortless grace and practicality that never goes out of style whether you choose a traditional or contemporary design. All our wooden bed frames are made from legally harvested timber.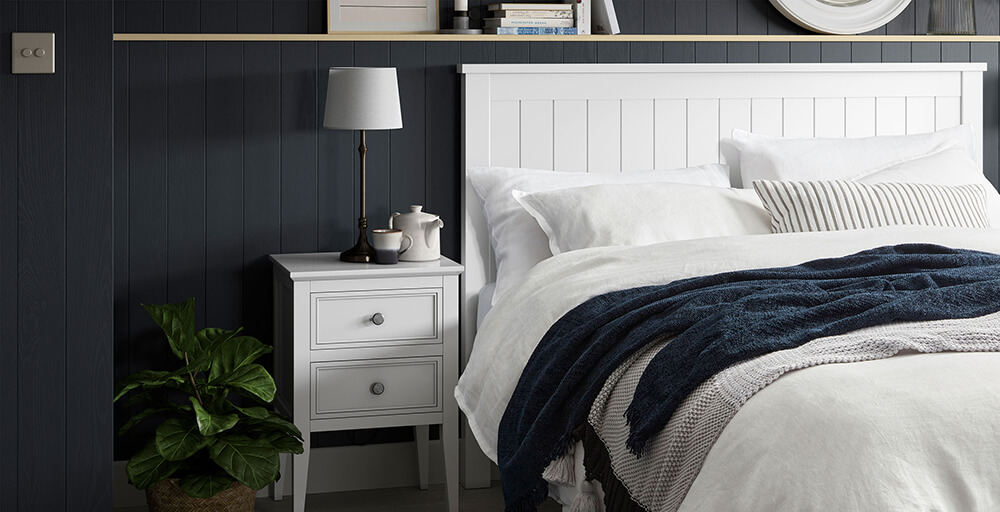 Metal & Iron Bed Frames
Metal and iron bed frames offer a very distinct look and whether your taste in vintage charm or understated glamour, a metal or iron bed is certain to transform a bedroom from drab to dramatic.

Upholstered Bed frames
Featuring contemporary through to classic styling, fabulous fabrics, delicate design details and impressive storage functionality; our upholstered beds are crafted with you in mind.
What size bed is best?
You'll need to consider how much available space you have in your bedroom and if you share your bed. The traditional double will accommodate two people comfortably but a king and super king sized bed are both wider and longer creating more space and less disturbance from your sleeping partner. Below are standard measurements (W x L) and it's a good idea to check the exact dimensions on the product page.
Will it fit?
Before buying your bed, you need to make sure it will fit the proportions of your room, and importantly, be able to get into your home in the first place. Here are a few things to consider to avoid unexpected issues when you get your bed home.
Check the dimensions
Make sure you check and write down the precise dimensions of the bed you're buying (found on our product pages) so you know exactly what you're working with.

Plan out your room
It's important to make sure you can visualise the space you'll have in the room when your bed is in place, so we recommend mapping it all out on the floor with masking tape. You can then walk around the room and see what space you're left with and decide if you feel it's enough or not.
Manoeuvring the bed through your house
It's essential that your chosen bed can physically fit through doorways and up staircases, so check the dimensions of all doorways and the clearance area above your stairs. It's a good idea to remove any pictures or freestanding lamps that might get knocked en route.
Need help assembling your bed?
No problem. We will assemble your bed and take away all the packaging for an additional cost. Just select the assembly option at checkout to take advantage of this service.
Why should you buy from us?
2-year construction guarantee
All our beds and furniture comes with a 2-year construction guarantee. Guarantees exclude goods purchased from our clearance sections or ex display items. This guarantee does not cover fair wear and tear, neglect, abuse or misuse of your goods.
If damage occurs to your bed frames after the guarantee period, we can replace individual parts if they are in stock. Prices will vary depending on the part required.